Josh McCown Sucks.  I mean, just look at this shit:
That's 4 Bills Players around 1 Browns Player.
Don't get me wrong — I know what you're thinking!  Manziel sucks too!
I agree with you 100%.  The Browns are stuck somewhere between a rock and a hard dick. When faced with choosing 2 bad players, you ALWAYS take the one further to the right on the Fun/Bad continuum (See Below, with Jay Cutler added as a reference point — slightly better but even less fun than McCown).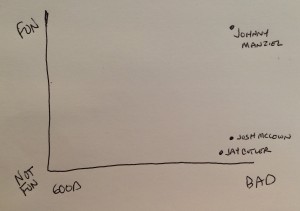 Here's another clip (Start at 40 seconds for his second terrible pick)… and these don't even show how many times he threw into quadruple coverage and it simply got batted down.  McCown is coming from throwing to a basketball team at his last two stops and looks like he's still in that mode.  Hawkins may have the coolest agility ladder videos on the internet but he is 5'9″ bro.  Relax.
So Browns: do the significantly more fun thing and start Johnny Manziel so we can all look forward to watching him run around in circles and (hopefully!) bring back the "gimmie that money" celebration by week 6.